Regular price
Sale price
$45.99 USD
Unit price
per
Sale
Sold out
Capture Cherished Moments: S925 Silver Romantic Colorful Photo Projection Necklace
Unveil the magic of memories with our S925 Silver Romantic Colorful Photo Projection Necklace. This heart-shaped pendant is not just a piece of jewelry; it's a personalized masterpiece designed to cherish your most precious moments.
Key Features:
Photo Projection Technology: Immerse yourself in nostalgia as this necklace projects a vibrant and colorful image when exposed to light. Watch as your cherished photo comes to life in a romantic dance of colors.
High-Quality S925 Silver: Crafted with love and precision, the pendant is made from high-quality S925 silver, ensuring durability and a timeless shine. It's not just a necklace; it's a symbol of enduring love.
Heart-Shaped Elegance: The classic heart shape adds a touch of romance, making it a perfect gift to express love, commemorate a special occasion, or celebrate an everlasting bond.
Personalized and Thoughtful: Customize this necklace with a photo that holds sentimental value—whether it's a picture of a loved one, a cherished pet, or a special moment. This personalized touch makes it an exceptional gift for birthdays, anniversaries, or any occasion that calls for a meaningful gesture.
Versatile and Stylish: The timeless design ensures that this necklace complements any outfit, making it suitable for everyday wear or for adding a touch of elegance to a special occasion.
How to Personalize:
Place your order.
Reply to the order confirmation email with the photo you'd like to feature on the necklace.
Our skilled artisans will carefully craft your personalized necklace, turning your cherished memory into a wearable work of art.
Embrace the beauty of your memories with our S925 Silver Romantic Colorful Photo Projection Necklace—a piece that transcends time and captures the essence of love. Order yours now and let your memories shine bright.
Overview:
Keep the good memory of your life
Also a great gift for your friends and your family

How to check photo: 
Method One
1.Open the phone camera software
2 Align the convex surface of the pendant with a mobile phone
3.You can see the contents of the miniature carving from the mobile phone, as shown in the figure

Method Two
1. Open the flashlight function
2. Align the face of the pendant with the flashlight
3. Project light shadows onto a black or white background, as shown

Note:
Need to send clear pictures, otherwise, it will affect the effect.
The outlook of the 925 Silver and stainless steel material will be different. Pls, pay more attention to it.

Specification:
Material: Stainless steel/925 Silver
Chain length: 40+5cm
Pendant size: 1.7*1.5cm
Weight: 3.1g
Color: Silver, Rose Gold

Package Content:
1 x Necklace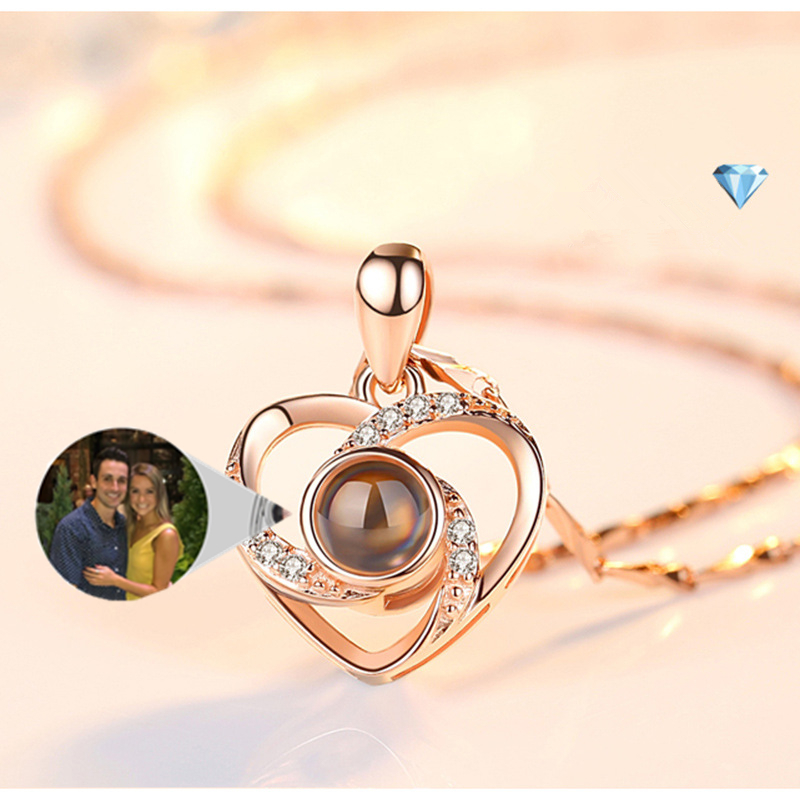 Share
Materials

Material: Stainless steel/925 Silver
Chain length: 40+5cm
Pendant size: 1.7*1.5cm
Weight: 3.1g
Color: Silver, Rose Gold
Production & Delivery Time
View full details